Series of safes of new design and certified according to UNE EN-1143-1 Grade II standard and certified against fire according to UNE EN-15659 Grade LFS 30 P (*), i.e. for 30 min. without exceeding 170 º C inside.
Perfect for home or business.
They are offered in 5 different versions in terms of type of closure.
* Currently the UNE EN-15659 Grade LFS 30 P certification is only available with the AM-25 size, soon for the other sizes.
Certificate

UNE EN-1143-1 GRADE II
UNE EN-15659 GRADE LFS 30P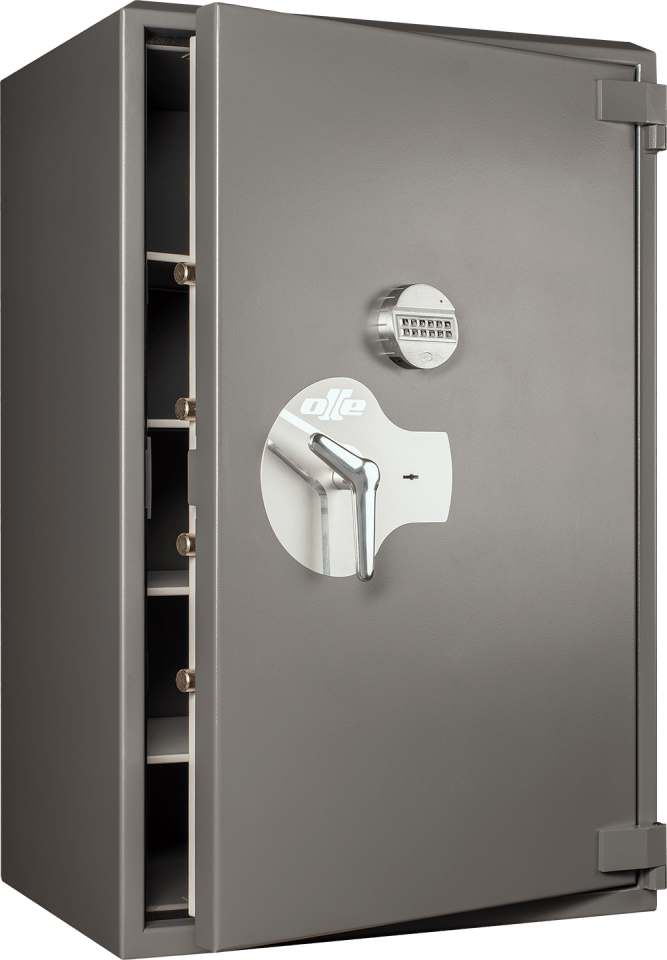 Specifications
50-mm thick door and body.
Bolt-hole for anchoring to floor and wall, with M-12 (50 kN) anchorage included.
Drill-proof armour plating.
Relock in the event of attack.
Handle operation with 12 Ø25 mm revolving bolts: 4+4 at the sides, 2 at the top and 2 at the bottom.
Models AM-8, AM-85, AM.9, AM-95 and AM-10, have 16 Ø25mm bolts: 5+5 at the sides, 3 at the top and 3 at the bottom.
El model AM-1 disposa de 8 pestells de Ø 25mm: 2 + 2 laterals, 2 superiors i 2 inferiors.
Tip-proof, height-adjustable shelves for all sizes except AM-1.
Passive fire protection by means of an intumescent fire seal in the door.
Colour Ral Design 000 35 00.
Models
Lever lock
Mechanical
Electronics and delay
Mechanical and lever lock
Electronic, delay and lever lock
Exterior Measurements
(mm.)
Interior Measurements
(mm.)
Internal Volume
Weight
Number of Shelves
AM1L
AM1M
AM1E
350
440
350
250
340
195
17
115
1
AM2L
AM2M
AM2E
AM2LM
AM2LE
500
450
450
400
350
295
41
190
2
AM25L
AM25M
AM25E
AM25LM
AM25LE
500
550
550
400
450
395
71
250
2
AM3L
AM3M
AM3E
AM3LM
AM3LE
650
550
550
550
450
395
98
305
2
AM4L
AM4M
AM4E
AM4LM
AM4LE
800
550
550
700
450
395
124
360
3
AM45L
AM45M
AM45E
AM45LM
AM45LE
800
700
550
700
600
395
166
425
3
AM5L
AM5M
AM5E
AM5LM
AM5LE
950
550
550
850
450
395
151
410
3
AM6L
AM6M
AM6E
AM6LM
AM6LE
1100
550
550
1000
450
395
178
465
4
AM65L
AM65M
AM65E
AM65LM
AM65LE
1100
700
550
1000
600
395
237
550
4
AM7L
AM7M
AM7E
AM7LM
AM7LE
1250
550
550
1150
450
395
204
520
5
AM75L
AM75M
AM75E
AM75LM
AM75LE
1250
700
550
1150
600
395
273
610
5
AM8L
AM8M
AM8E
AM8LM
AM8LE
1400
650
650
1300
550
495
354
715
5
AM85L
AM85M
AM85E
AM85LM
AM85LE
1400
800
650
1300
700
495
450
820
5
AM9L
AM9M
AM9E
AM9LM
AM9LE
1550
800
750
1450
700
595
604
980
6
AM95L
AM95M
AM95E
AM95LM
AM95LE
1550
800
650
1450
700
495
502
895
6
AM10L
AM10M
AM10E
AM10LM
AM10LE
1700
800
650
1600
700
495
554
970
6
Left opening
Anti-phishing mailbox
Demana pressupost de la informació
"*" indicates required fields